Transportation to and from The Dalles

BIKING FROM PORTLAND TO THE DALLES
Sixty-eight of the original 73 miles of the Historic Columbia River Highway are now open to travel. Only 5 miles are needed to complete the connection.

The Troutdale to Cascade Locks segment passes by many waterfalls, Crown Point Vista House and the Bridge of the Gods. 
The following Cascade Locks to Hood River segment features a new car-free segment of the restored state trail from Starvation Creek Trailhead to Viento State Park. 
Here is where the trail is under construction, including the the Mitchel Point Tunnel project which is expected to be complete in the Spring of 2023.
The Hood River to The Dalles segment includes a beautiful 4-mile car-free leg that goes through the Mosier Twin Tunnels, followed by a ride to the Rowena Crest Viewpoint and Columbia Gorge Discovery Center.

One of the best and most scenic bike rides in Oregon links The Dalles and Hood River along the Historic Columbia River Highway. 4.5 miles of this 26-mile route are car-free and include stunning river views and passage through two tunnels.

The route also includes the Rowena Loops, 7 miles of dramatic hairpin curves that enabled the highway designers to maintain grades of 5% or less. When the highway was constructed (1916-1922), Model T cars did not have enough horsepower to climb steep hills, and the 5% grade was manageable for these vehicles. As a bicyclist, the loops will still require effort to climb and generate speeds above 20 mph on the way down – it's not flat.

Alternatively, Columbia Area Transit (CAT) and the Link can accommodate bikes. 

Greyhound -Greyhound and bikes are not the best fit but possible. Bikes must be boxed (boxes are sometimes available for $10), and an oversized baggage fee is charged in addition to the box. Board early to ensure cargo space for the bike. Advisable to get a box from a bike shop.

For rides in and around town:
Getting to and from The Dalles:

Once you're in The Dalles, pedal the banks of the mighty Columbia on the Riverfront Trail or explore some of the area's road rides.
Bike shops in The Dalles-  Local information, maintenance, gear and accessories
Bike rentals in Hood River – All conveniently located near the CAT stop and offer a variety of options including road, commuter, and eBikes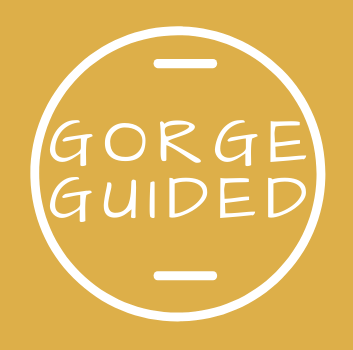 Gorge Guided is a network of guides and tour operators serving the Gorge region. The website includes tours by bike, air, water, and hiking/walking, as well as wine and shuttles. These guides bring local knowledge; access to experiences and community; preparedness and safety; and, of course, fun.  
Watersports - Rentals, Lessons & Guided Trips

Arrive in The Dalles car-free AND play in the water. These locally based businesses have the gear and expertise. Bring yourself and your sunscreen to experience the Gorge from its defining feature, the Columbia River.
Oregon Kiteboarding, (541) 705-0475 – mobile kiteboarding school, can transport customers to lesson site
Sturgeon River Monsters, 100 W 4th St, (541) 980-0078 – charter sturgeon fishing trips – catch a toothless river monster, RAR!
Outcatching.com, Boat Launch Rd, (541) 993-7663 – guided catching trips for monster sturgeon, half and full day trips for 1-6 people, includes lunch