Transportation around Portland and to the Columbia Gorge

Biketown – City of Portland's official bike share with stations covering metro Portland and adaptive bikes for those with disabilities.
Bikabout.com has a travel guide to help you wander Portland by bike with rentals, tours, bike friendly hotels, airbnbs, locally curated itineraries and logistics like etiquette, security and safety info.

Columbia Gorge Express – Leaves from the Gateway station 5 times a day in the winter and 8 times a day in the summer. Gateway is a major transit hub easily accessible by Trimet or car from almost anywhere in the Portland area.  
Tri-Met – bike friendly transit service with light rail and bus service connecting metro Portland.
Greyhound Bus – service from Portland to Hood River and The Dalles. Bus does not allow bikes.

BIKING FROM PORTLAND TO THE OREGON COLUMBIA GORGE
Sixty-eight of the original 73 miles of the Historic Columbia River Highway are now open to travel. Only 5 miles are needed to complete the connection.

The Troutdale to Cascade Locks segment passes by many waterfalls, Crown Point Vista House and the Bridge of the Gods. 
The following Cascade Locks to Hood River segment features a new car-free segment of the restored state trail from Starvation Creek Trailhead to Viento State Park. 
Here is where the trail is under construction, including the the Mitchel Point Tunnel project which is expected to be complete in the Spring of 2023.
The Hood River to The Dalles segment includes a beautiful 4-mile car-free leg that goes through the Mosier Twin Tunnels, followed by a ride to the Rowena Crest Viewpoint and Columbia Gorge Discovery Center. 

East Multnomah County Cycling Hub – information for biking from Portland east to Gresham.
Alternatively, Columbia Area Transit (CAT) can accommodate bikes. Here is the Bike route to Portland's Gateway Transit Center.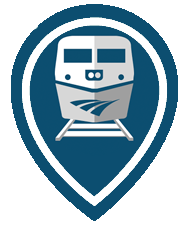 Amtrak – Empire Builder service from Portland's Union Station to Bingen, WA. From, Bingen, you can call Hood River taxi or catch the Mt Adams bus.

Amtrak lines that allow bikes:

Cascades – $5 reservation required.
Coast Starlight – $20 reservation required.
Empire Builder – $25 reservation required. ONLY folding bikes allowed if you're getting off at Bingen, WA station in the Columbia Gorge.

Exploring Portland from the train station:

There are a few Tri-met options outside the Amtrak station. Use Google maps for the best directions and real-time train and bus info.

You can walk from the station to most places in downtown Portland.

The station is in a bike friendly spot in downtown Portland. 

TO & FROM PORTLAND AIRPORT
Tri-met has a station right at the airport outside baggage claim and will take you downtown in 45 minutes and cost $2.50. Use Google maps for directions and select "transit" for real-time train and bus info.

This airport is quickly becoming known as one of the most bike friendly places to fly in or out in America. Just the fact that they have a bike info page for how to bike there, bike assembly and Tri-met connections is a big deal.

Several providers offer shuttle service between Gorge destinations and PDX.

Enterprise Rentals

 – rent a one-way or round-trip car from any Portland office to Hood River.