Breathe in waterfall mist. Explore trails, river, fishing, and ales. Camp. Do s'more.
Cascade Locks is home to Bridge of the Gods, Pacific Crest Trail, tribal fisheries, world-class sailing, Thunder Island Brewing, and scenery that will blow your mind. It's tough to find a better gateway to nature – for people just learning campcraft and expert backcountry travelers.
Wherever and however you find nature, please recreate with respect and use Leave No Trace principles.
Getting to Cascade Locks
From the Portland metro area, catch the Columbia Area Transit (CAT) at Gateway Transit Center seven days a week. Please check timetables here before heading out.
On your way to Cascade Locks tune into the Hear in the Gorge podcast, which tells compelling and under-recognized stories of the cultural history and life in the Columbia River Gorge region. The Woody Guthrie episode is about the songwriter's month-long Columbia River experience. Several miles after departing the Multnomah Falls stop, be on the lookout for Bonneville Dam. This National Historic Landmark features prominently in Guthrie's work on the Columbia and is easily visible from the bus.
Getting to Multnomah Falls
Multnomah Falls is a must-see destination, especially if you haven't seen it before. 620′ tall in two drops with a gorgeous bridge between, Multnomah Falls is Oregon's Mona Lisa…although it's a heck of a lot bigger than the Mona Lisa.
*The hike to the top of the falls is closed due to damage and associated rockfall from a fire in 2017. If you want to hike to a waterfall, we recommend going to Cascade Locks instead and hiking to Dry Creek Falls.
The Columbia Gorge Express departs from Gateway Transit Center to Multnomah Falls. Check here for schedules.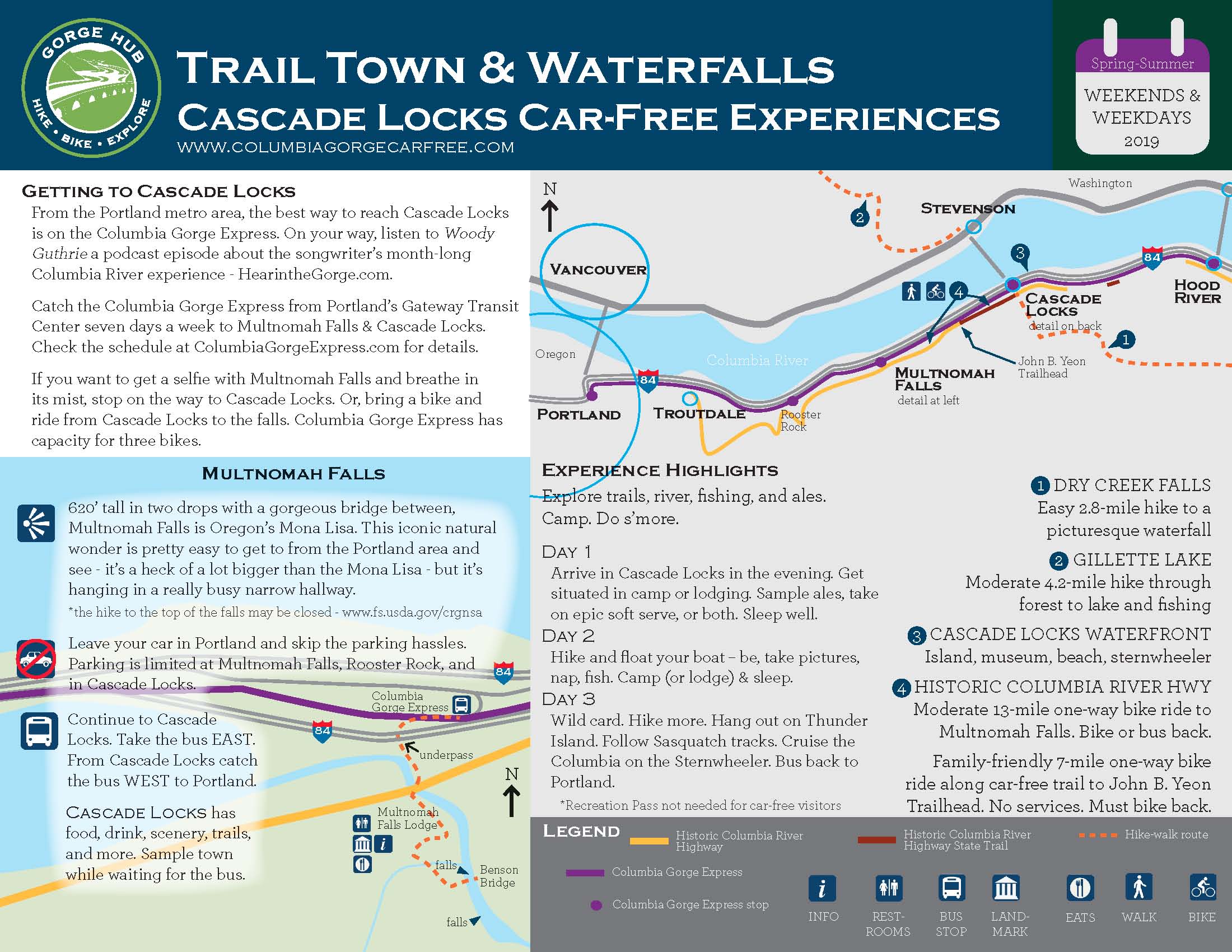 Hiking
Stay for a bit
You've made the trip to this destination trail town – treat yourself to the river, trails, activities, and rustic experiences. Stay in town or totally surround yourself with trees. Since you arrived without a car, a Recreation Pass is not needed for day hiking or backpacking overnights.
DAY 1
Arrive in Cascade Locks in the afternoon or evening. Get situated in camp or lodging. Sample ales, take on epic soft serve, or both. Sleep well.
DAY 2
Hike and float your boat – be take pictures, nap, fish. Camp (or lodge) & sleep.
DAY 3
Wild card. Hike more. Hang out on Thunder Island. Follow Sasquatch tracks. Cruise the Columbia on the Sternwheeler. Bus back to Portland.
In town, camping is available at the Marine Park Campground (509-637-6911) and at the KOA Kampground (541-374-8668). Both campgrounds have showers free to campers. We recommend calling ahead to reserve a campsite.
Backcountry camping is also available for no fee. Stock up on provisions in Cascade Locks and camp at Gillette Lake or Table Mountain.
Four motels and inns provide indoor accommodations:
Best Western Plus Columbia River Inn (541-374-8777)
Bridge of the Gods Motel (541-374-8628)
Cascade Motel (541-374-8750)
Columbia Gorge Motel (541-374-0015)
Tours
Columbia Gorge Sternwheeler – meal cruises and sightseeing excursions are available on this three-decker paddle wheel riverboat May to October.
Always Catchin Fishing Charters – a fully licensed and insured Cascade Locks-based Guide Service providing walleye, salmon, steelhead and sturgeon fishing trips on the Columbia year round.
Click for more information:
FUNDING SUPPORT BY:

AUGUST 31, 2018